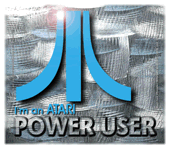 A very, very beatiful mousepad for Atari users.
Built with highest quality materials, 4mm high, it's the perfect tool for Atari users.
It has the text "I'm an Atari power user" written over the Atari logo, the background texture is metallic, to give it a 3D look.

Prices are as follows:

"I'm an Atari power user" mouse pad: 8.3 US$ end user suggested retail price
Dealer inquiries welcome!